Top Cut Tree Services is the most trusted tree removal & stump removal company in Sydney, NSW. We offer a full range of arboriculture services and obligation-free quotes in your area. While we're based in Western Sydney, we work across all major areas of the Sydney CBD and surrounding suburbs.
Over the years local residents and businesses looking for tree removal in Sydney have trusted Top Cut Tree Services to keep their trees expertly pruned, healthy and in beautiful condition. Professional tree care is essential for the safety and beauty of our local communities. Having over 20 years of experience, we have earned the trust of Sydney's local residents, and our high-quality work and friendly customer service are what helps us to continue growing our customer base. It's our genuine passion for preserving our natural environment that stands out.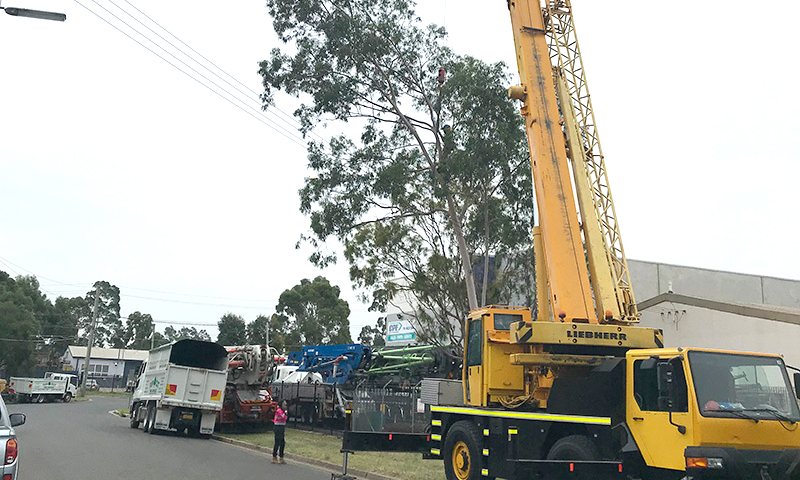 We offer affordable residential and commercial tree removal, stump removal & grinding and tree trimming services. We complete jobs that are in accordance with your local council regulations, and our comprehensive insurance policy covers every job we do. These are just a few reasons why we come highly recommended.
High-Quality Tree Removal Throughout Sydney
We have a few old-fashioned beliefs when it comes to providing high-quality tree lopping and tree removal and maintenance services. We always use local tree removal experts. Our Arborists have in-depth knowledge of the local environment, ensuring the best outcomes for your trees. The second is to consider our customer first. We will always provide quality advice and guidance based on your specific needs. This results in a premium tree service delivered by a friendly local team.
We believe that high-quality tree lopping should be available to everyone and quality care is in the best interest of preserving our urban treescape. Our Teams are equipped with the best tools and training available to deliver outstanding tree care and maintenance services.
If you need a tree removal job done professionally, then you've come to the right place. We provide free quotes so that you know upfront what the tree removal costs before you make any commitments. So, if you need stump grinding, tree pruning or a complete tree removal, our professional tree service crew can help.
Who Are We and What Areas Do We Service?
No matter where you're located, you are guaranteed to receive the same professional and expert services for all your tree-related needs. When you need expert tree removal anywhere across Sydney, NSW you can count on us.
We work with the following local councils for expert Tree Removal Services
Tree Removal Sydney. We service a wide variety of customers, from residential properties to commercial properties, government departments, parks and schools. We have a specialist team of over 20 employees who are qualified arborists and industry certified to carry out a comprehensive range of arboriculture services.
Located in Western Sydney, we can provide a quick and efficient service for all jobs big and small. If fact there isn't a suburb we don't cover so no matter where you are located in Sydney, if you're in need of a tree removed contact the professionals at Top Cut Tree Services.
Affordable Tree Cutting Services Sydney
We have worked in Sydney for over 20 years, and in that time, we have built a reputation for safe, efficient and affordable tree removal services. We believe our prices are competitive, and when you watch our crews in action, you can see a passionate methodical and meticulous team who know how to make trees look truly beautiful!
We love trees, parks and green spaces which is why we are in the arboriculture business. Preservation will always be our first choice; however, there are instances where tree removal may be necessary. First, check with your local council as you may be required to have a permit to comply with council regulations. Our licensed arborists can provide a safe and effective tree removal solution for multiple scenarios. For professional Tree Removal give us a call.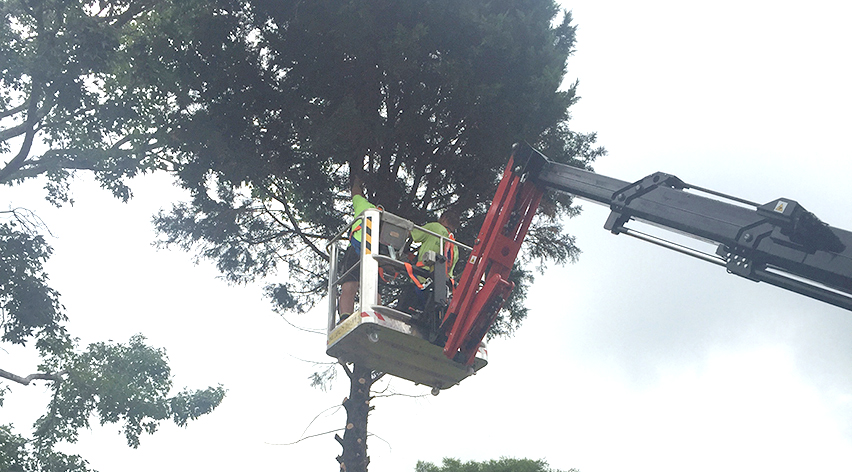 Why Do Trees Need to Be Removed?
Trees are living things and are susceptible to environmental changes, weather, old age and disease. When a tree is stressed, damaged or dying, it may need to be removed by qualified tree experts. Top Cut Tree Services offers sound tree removal & stump removal solutions that best suit your circumstances.
Some of the many reasons a tree may need to be removed include:
It's growing dangerously close to powerlines
It is diseased or infectious
It has pests such as borers or vermin nesting in it
It is dead or has decaying branches that may fall during adverse weather
It is in the wrong location and is blocking a view
It is damaging foundations, plumbing or pathways
It was damaged in a storm and is in danger of falling
You have a home extension or pool going in
The location has become dangerous, or it's root base has been undermined and may fall
How Much Does It Cost for Tree Lopping Services Sydney?
This is a tough question to answer straight out and you will probably find the costs will vary significantly between tree removal companies. This will depend on several factors such as the size of the tree, species, degree of removal complexity, condition and if the removal requires climbers and cranes. If you feel you may need to have a tree felled, call our team straight away, the longer you leave it, the more complex the removal may become. The most important consideration is to choose a reputable company that has the experience, equipment and technical knowledge to manage your tree removal safely.
Call our team today we provide transparent, obligation-free quotes, so you have accurate upfront costs before removing your tree.
We Manage Complex and Dangerous Tree Removals
The removal of trees is a dangerous and technical service that requires high levels of training, qualifications and experience. Hazardous trees are those classified as being.
a threat to property or person
having structural defects
maybe located in a vulnerable position
growing between two structures or
purely because of its immense size and will require a high degree of technical expertise, rigging and equipment.
Large tree removals require industry specific tools and machinery such as EWP's cranes and the expertise of qualified climbers to dismantle a tree safely. We have advanced tree rigging techniques to ensure every tree removal we perform is done safely and methodically. We take extreme precaution and care with all our Sydney tree removal jobs to reduce and minimise any potential hazards or risks. Our teams follow stringent safety protocols to deliver a high standard of quality work. We have extensive experience dismantling large trees and have the equipment to efficiently remove hazard trees anywhere in Sydney, NSW.
Safety Is Our Number One Priority When It Comes To Tree Removal
Over the years, the safety of our team, our customers and property have diligently remained our primary focus. Our professional team work to all relevant Australian Standards and our extensive knowledge of OH&S Legislation ensures everyone's safety. We have been providing our clients with first-class tree removal in Sydney for over 20 years. We do not value quantity over quality and will not compromise our staff or client's safety.
We value our teams and remain committed to delivering quality workmanship whilst promoting a culture of safety excellence and customer satisfaction. We minimise risk during every step of the process by
Having comprehensive insurance
Undergoing regular refresher training to keep up to date with the latest techniques
Reviewing our safety policies and
We invest in quality equipment and tools
Sydney Emergency Tree Removals
Adverse weather conditions, storms and high winds can result in an emergency, where fallen trees and branches have damaged your property. We offer a 24-hour emergency tree removal service in Sydney. We understand that emergencies do not always happen during working hours so if you require immediate assistance, we are available anytime. We have a highly trained and experienced team with emergency equipment to efficiently and safely remove fallen trees and branches. Our goal in every Sydney emergency tree removal is to prevent further damage from occurring and to remove the tree safely and efficiently.
Residential Tree Cutting Services Sydney
As licensed arborists, we carry out tree removal work that considers both the environment, your property and that of your neighbours. We aim to have minimal impact on your outdoor space and pay close attention to safety when working around your family and home. Our skilled arborists undergo regular training, and this up to date experience combined with industry-specific equipment ensures all our projects are completed neatly and professionally.
If you have overgrown branches that need to be trimmed back, a seasonal maintenance visit, stump grinding, firewood or just some advice on how to get a tree looking its best you can rely on Top Cut Tree Services for quality guidance and options that best suit your needs. For affordable tree removal, Sydney request a quote today.
Commercial Tree Loppers Sydney
Top Cut has developed a solid reputation as leaders in the arboriculture industry providing commercial tree services to Sydney businesses, civil companies and local governments in the region.
With many years of industry experience and an impressive portfolio of successful projects completed, we have become the trusted and preferred tree cutting service provider for local councils, schools, real estate agents, and private business owners. We're confident in the skills and knowledge of our professional team to provide you with the best solution for all your tree care and maintenance needs.
Our Areas of Expertise Include:
FREE Mulch
Our team at Top Cut Tree Services do everything we can to preserve our environment and actively implement sustainable practices as part of our biodiversity values. One way we do this is by offering our clients a free service to recycle the wood chips from a felled tree into mulch for their gardens. We use a chipper to chip the felled tree, bark and leaves into mulch for your garden. Mulch helps to suppress weed growth, conserves moisture in the soil and recycles nutrients back into the garden.
Our Commitment to Our Customers
We are reliable, arrive on time and complete jobs to an agreed timeline
We offer free and transparent no-obligation quotes with no hidden costs
We have high safety standards with an absolute commitment to protecting our team, your family and property
We have trained, and experienced arborists dedicated to your job from start to finish
We have the latest equipment and machinery specific to your job
We tidy our worksites and endeavour to have minimal impact on the local environment
For all your tree removal, Sydney Tree removal and maintenance needs give us a call we look forward to working with you.
We have always held the belief that the winning formula in business is putting our customers first and providing quality and affordable tree removal services. We recognize the importance of keeping our customers satisfied and make sure we go the extra mile to guarantee a good referral and secure your return business.
Through continued investment, we have some of the newest equipment and machinery to help our skilled team provide first-class tree services every time. The vast range of equipment and machinery allows our team to manage a range of jobs and allows our business to adapt to each specific job requirement. What are you waiting for? Pick up the phone and request a quote now. We can't wait you impress you.
Receive A Free Inspection & Quote
Our team at Top Cut Tree Services is fully insured for your protection. Our trained team of qualified tree specialists work in your area and know the environment well. We work closely with our client and provide transparent, free no-obligation inspections and quotes. There are no hidden costs, and we will always provide you with options and pricing to suit your needs.
We will take care of any tree removal in Sydney and manage the whole process including planning, removal and cleaning the area before we leave.
If you need expert tree lopping advice or have any questions about our services, we would be happy to pop in and have a look at your tree or have a chat over the phone.
Speak to one of our friendly staff today to find out more about tree removal costs and services. We look forward to an opportunity to demonstrate our teams' capabilities and the chance to exceed your expectations. The tree company you'll use again and again! Request a quote today!
Serving the following Sydney suburbs