Penriths
Tree Removal Experts
For all your tree maintenance needs in western Sydney .. from complete tree removal to stump grinding, tree pruning, arborist reports, mulch and firewood delivery.. we've got you covered.
Top Value, Top Service, Top Cut Trees!
Fast and Clean
Need A Top value Tree removal Service in Penrith?
Based in Shanes Park, Top Cut Trees are Penrith's trusted tree removal company with over 20 years providing tree services locally and across the Greater Western Sydney region. You don't stay in business this long without understanding the two main things our customers need from an arborist.. Top Value for money and top quality service!
In line with that, we use fully qualified cert 3 arborists on all our jobs and our team always pay particular attention to leaving the job site cleaner than when we got there.
Combined with our super fast turnaround times and ultra-competitive tree quotes there really won't have any reason to look anywhere else.
Give Warrick a call and book a quote today!
Real Customer Reviews
From the first phone contact to completion of business, Warrick was polite and pleasant to deal with. I was very impressed with the advice that he provided and the quick and professional service that followed. I have no hesitation in recommending Top Cut Tree Services; they are reputable, fastidious in their workmanship and provide excellent value for money. Will certainly use their services again in the future.

Cheryl Bilton
12:19 18 Jul 22
Warrick and the team were great. Super fast and professional. Thank you very much.

Stacey Granahan
01:36 29 Jun 22
Warwick has a great team doing a professional job, arriving as per agreed on time and much cheaper than 6 other quotes I had. Highly recommend Top Cut Tree Services.

Elaine Croft
01:59 28 Jun 22
Excellent service. Would highly recommend.

Brett Mcilwain
12:21 20 Jun 22

Michelle Wyngaard
20:42 13 Jun 22
Warwick and his team were very efficient and removed 6 trees in no time.

Warwick and the team were awesome. So easy to deal with and did what was needed in no time with minimal interruption to business. Will use again for sure.

Andrew Lauro
00:19 23 May 22
Warwick and his team were great and I highly recommend their service. Prompt, transparent, fully insured and pleasant to deal with. I have no hesitation in hiring them again and was very grateful for the hassle free service in removing our 10ft Silky Oak tree that was awkwardly positioned on the boundary of our property with no damage or risk to the fence or our dwelling.Thanks Guys!!

Kimberley O'Neill
03:39 20 May 22

renato garcia
09:59 04 Apr 22
Just wanted to say a big thanks to you and your amazing team for your work today. It's lovely to deal with such a professional and friendly service. Your attention to detail and the care taken did not go unnoticed given the size of tree you removed. Will definitely be recommending you and only using Top Cut Tree Service in the future.

Kristina Medak
04:03 29 Mar 22

Steve Dawson
21:51 15 Mar 22
They have removed massive tree from our neighbour's yard and the job was awesome .

Top Cut. Tree Services , i pointed out what i wanted and the team obliged,cleaned up and okay to talk to, made sure i was happy and left , thank you Captain and Team

Top Cut were reliable and professional. They provided weedy tree removal of blackberry and privet. They listened to what was needed and carried out the works to an excellent standard. Good staff and all the equipment necessary for big or small jobs.

Warwick and his team did a great job cutting back our trees and clearing up afterwards.

Vera Bonham
23:47 03 Feb 22
Had 8 pines removed. Attended on time as stated. Professional in all areas. Explained all prior to starting. Ensured nothing was damaged. Cleaned up when finished. Great communication at all times. Polite also. Can recommend strongly. A complete professional company. No hassles at all. Very reasonable price. Thank you. Highly recommended

Otto Holenstein
00:41 07 Dec 21

Greg Chambers
08:45 15 Sep 21
Warrick and his team at Top Cut Tree Services subcontract to our business. I can highly recommend them as they're always friendly, punctual, safety conscious and diligent! Well done guys!

Vinod Raghavan
11:41 04 Jul 21
Very professional, removed 2 x large trees that were very close to the house. Absolutely perfect job, no mess left behind. Pleasure to deal with.

Paul Farrugia
07:00 02 Feb 21
Storm on Tuesday night, quote on Wednesday for removal of two trees and stump grinding, job completed on Thursday. Thoroughly professional company; very pleased with the result; would have no hesitation in recommending Top Cut for this kind of work.

Peter Moon
20:58 03 Dec 20

Anthony Daskalopoulos
07:31 05 Nov 20
Top Cut Trees Team are so professional. We were so impressed that they stopped work as we had found a bat entangled in the palms. They stopped work to rescue the bat. Extremely conscientious, precise in dropping tree in tricky situations and aware of environmental issues such as bats, bee colony etc. You pay for what you get! Highly recommended!

Doreen McCulloch
06:56 27 Oct 20


Ryan Butler
03:04 27 Oct 20

Rosi Gordon
08:15 04 Jun 20
If you're looking for tree trimming services in Penrith choose Top Cut Tree Services. For the past 20 years, we have provided arboriculture services to homes and business across Sydney's CBD and in your community of Penrith.
When you call Top Cut Tree Services you are guaranteed to receive professional and expert advice and tree cutting services that are completed in accordance with Penrith City Council regulations.
Tree Services
If you need tree services Penrith and have concerns about a tree on your property, our licensed arborists can provide a tree removal solution for multiple scenarios and under a variety of conditions. There are several reasons why you may need to remove a tree such as
It blocks a view and the removal will compliment your Penrith home and landscape
It has become an obstruction and is unstable which may represent a fall hazard
It has encroached on a building or boundary
It has grown too close to powerlines
It has aged and has an unstable root base
It has an infectious disease
When tree pruning and tree trimming are not enough to save or preserve your tree, our highly professional team have procedures and an effective process in place to remove your tree regardless of the reason. Our team will take into account the condition of the tree, its health, access, size, weight, species, the environment, your Penrith property landscape and offer you a safe and stress-free service to get the job done. For expert tree trimming, tree removals, land clearing, palm tree and gumtree removal and stump removal services request a free quote now.
Stump Removal
Stump removal is the process of removing the stump including any parts of the tree hidden below ground. As a Penrith resident you may ask yourself why this would be necessary if it could just be covered up? The short answer is, that leaving a stump underground could be a costly mistake. For example, if the tree was originally removed to accommodate for a construction project, the root could blossom once again and penetrate the newly erected building or become a significant obstruction. If a section of the stump is left above ground, we often find that not only does it become unsightly over time it represents a safety hazard for children, families, staff and the general public. If you need expert stump removal then request a quote today.
Tree Trimming
Top Cut Tree Services is committed to environmentally sustainable practices to prolong and preserve the life of your tree and the surrounding vegetation within the Penrith area. We care for all trees and provide seasonal maintenance for both small- and large-scale projects to maintain the health and form of your environment. We manage and trim trees that have over the years encroached on fences, Penrith homes or powerlines and may require technical expertise and equipment or we can simply trim and make your tress look more aesthetically pleasing.
Searching for Penrith tree removal but not sure whether or not you need approval from the Penrith Council please give us a call for any free advice. You can also find information in regards to council approval and applications here – Penrith City Council
How much does it cost to cut down and remove a tree in Penrith? Request a quote today for a fair and affordable price.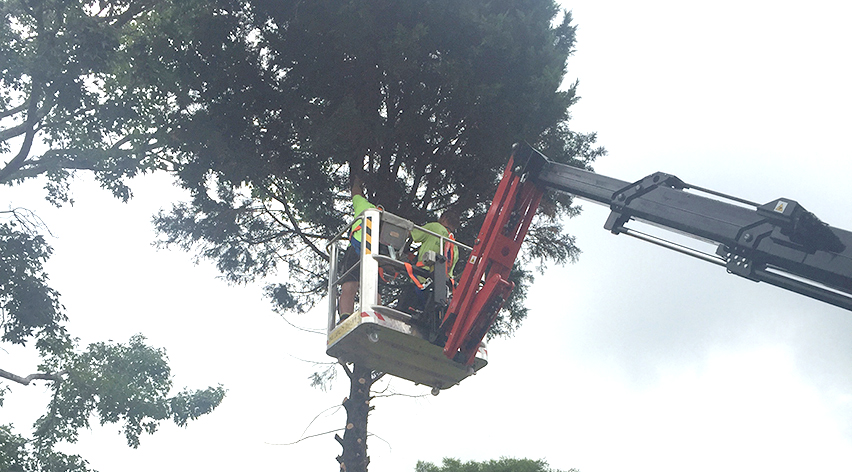 Penrith Emergency Tree Removal Services
Our qualified team at Top Cut Tree Services is highly skilled in being able to quickly respond and manage hazard trees and emergencies. Emergency jobs throughout the Penrith area usually require a degree of technical expertise and our team has years of experience to successfully manage an emergency tree removal effectively and efficiently. When a tree has either caused damage to your Penrith property or poses an imminent threat we have both the skills and equipped to deliver a prompt, personal and professional emergency tree removal service.
Top Cut Tree Services provides quality firewood to both commercial and residential clients across Penrith and the surrounding suburbs. Our quality hardwood mixes are suitable for a range of heating needs including indoor fireplaces, outdoor dining areas at cafes, pizza ovens, restaurant heating, home fireplaces or fire pits. If you require a reliable supply of firewood that burns well and lasts, order one of our hardwood mixes today and we'll be in Penrith serving you in no time.
If you have concerns about a tree on your property Top Cut Tree Services ticks all the boxes
Licensed arborists
We have extensive local knowledge and our arborists undergo regular training to ensure you receive the very best and safest tree removal services. Specialized equipment you cannot do a job properly without the right equipment and we invest in industry-specific equipment to ensure all our projects are completed neatly and professionally. We have a range of machinery to manage large- and small-scale jobs. We have an impressive portfolio of successful projects completed in your area and have proudly established a reputation as leaders in the tree cutting industry.
Sustainable and Safe Working Practices
We carry out tree removal work with precision and our capable and experienced team respect and consider the landscape, environment, green spaces, your property and that's of your neighbours. Rest assured your outdoor space will not be disturbed during or after a tree removal job facilitated by Top Cut Services.InsuredTop Cut Tree Services has developed a solid reputation as leaders in the arboriculture industry. We are consistently recommended by Penrith residents and are the preferred and trusted service providers for numerous Shires across Sydney. We pride ourselves on offering efficient and reliable arboriculture services to the community. Part of this commitment includes your peace of mind in knowing that you are using a reputable company that is insured and is a company that that prioritises your safety and that of our teams.
Top Cut Trees proudly service the following penrith suburbs: Agnes Banks, Badgerys Creek, Berkshire Park, Caddens, Cambridge Gardens, Cambridge Park, Castlereagh, Claremont Meadows, Colyton, Cranebrook, Emu Heights, Emu Plains, Erskine Park, Glenmore Park, Jamisontown, Jordan Springs, Kemps Creek, Kingswood, Kingswood Park, Leonay, Llandilo, Londonderry, Luddenham, Mount Verno, Mulgoa, North St Marys, Orchard Hills, Oxley Park, Penrith, Regentville, St Clair, St Marys, Shanes Park, South Penrith, Wallacia, Werrington, Werrington County, Werrington Downs
FOR AN OBLIGATION FREE QUOTE FOR ANY OF OUR SERVICES CALL ONE OF OUR FRIENDLY TEAM MEMBERS TODAY.